4.94 / 5 Average Review Score
Team of Experts Available 24/7
Licensed and Insured Guides
Recently Booked Fishing Charters Near North Kingstown, Ri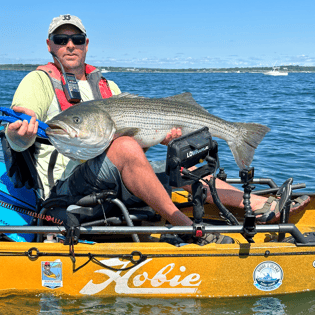 We are proud to be Rhode Island's first kayak fishing charter service! Anglers can choose a freshwater trip or a saltwater trip. Everything is included in the price of booking besides your fishing license. All trips are done in pedal driven kayaks so that you can keep your hands free! On saltwater trips you can expect to target striped bass, bluefish, false albacore, Bonito, Tautog, summer flounder, Black Sea bass, Weakfish, and a few more. While on freshwater trips you can expect to target largemouth bass, carp, crappie, and trout. Most trips start at first light however sometimes due to weather/water conditions a trip might need to start later in the day. While we can never guarantee fish quantity or size, what we will guarantee is that you'll get a great experience for what kayak fishing is all about, you will master the techniques used throughout the day, and you will have great knowledge of the fishery. We look forward to seeing you on the water! Read More
Top Types of Trip in North Kingstown
Everything to Know About Booking a Fishing Charter in North Kingstown
What are the best fishing charters in North Kingstown?
All guides on Captain Experiences are licensed, insured, and vetted by our team. You can access their reviews, click through trip photos, read bios to get to know them, and preview trip details like species, techniques, group sizes, boat specs and more.
Another popular city nearby for booking a charter is Newport.
What types of fishing charters are common in North Kingstown?
Deep Sea fishing is the most popular in North Kingstown as well as nearshore fishing, river fishing, and lake fishing.
The most commonly sought after species in North Kingstown are: 1. striped bass, 2. fluke, 3. black seabass, and 4. tautog.
The most common fishing techniques in North Kingstown are sight casting, jigging, and trolling but bottom fishing and topwater fishing are popular as well.
How much do North Kingstown fishing charters cost?
in North Kingstown prices can range anywhere from an affordable $300 to $1,000, but the average price for a half day trip in North Kingstown is $700. The average price for a full day trip in North Kingstown is $1,000.
What month is best for fishing in North Kingstown?
The most popular season for fishing in North Kingstown is summer, and most anglers book their trips 1 days in advance.
Do I need a North Kingstown fishing license and what are the bag limits in North Kingstown?

You're in luck! Our fishing tours in North Kingstown don't require you to purchase a fishing license – your group is covered by your boat's captain. See here for more information on bag limits and fishing season regulations in North Kingstown.

;