4.94 / 5 Average Review Score
Team of Experts Available 24/7
Licensed and Insured Guides
Recently Booked Fishing Charters Near Delacroix, La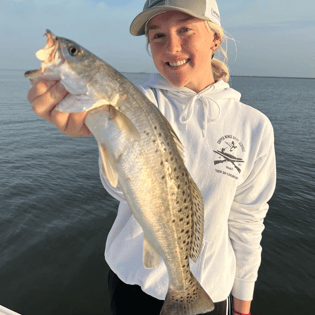 Come on down and experience the best of both worlds on this combination bowfishing and angling trip! Why choose one when you can do both? You'll start off the afternoon on board a 26' Caymas center console bay boat chasing Speckled Trout, Redfish, Sheepshead, and Black Drum. You'll leave the dock about 3 hours before sunset for your rod & reel fishing charter and enjoy the sunset while catching Louisiana's most popular fish. At sunset, you'll meet Captain Chris on the bayou, where you will hop on board a custom 20' airboat to continue your night of bowfishing for the next 3 hours. You trip will last approximately 6 hours. This combo rod & reel and bowfishing charter is perfect for customers who want to experience it all but do not want to stay out late into the night. Its the perfect opportunity to enjoy both styles of fishing in one trip! Fuel, bait, ice, rods, reels, bows, arrows, tackle, and fishing cleaning services are included. More time may be added to the beginning of your trip or the end of your trip. If you would like to do 4 or 5 hours of rod and reel fishing prior to the bowfishing charter, or if you would like to add an extra hour or two to the bowfishing charter, you may do so by requesting additional time prior to your trip. Additional time may be added at $200 per hour for the entire group! Read More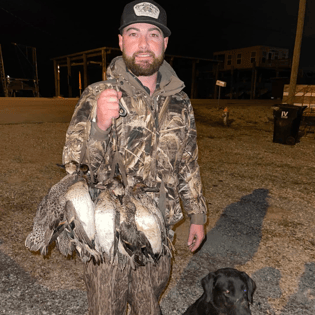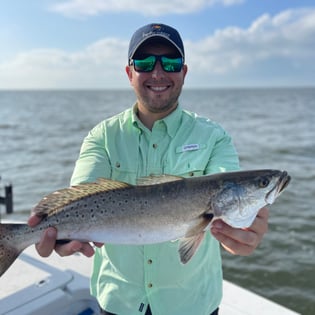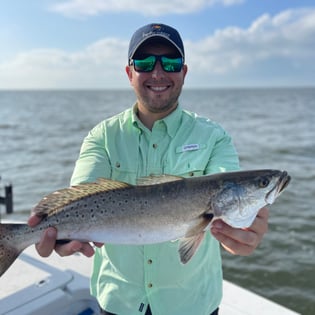 For a blast&cast we will be going duck hunting for about 4 hours then go back and get in the bay boat and go fishing for red fish trout sheep's head drum I will have everything for the fishing trip all you need to bring is snacks and alcohol if wanted you CANNOT bring ALCOHOL on the duck hunt if you just do ducking the trip will last about 6 hours or if we limited out I also offer evening trips Read More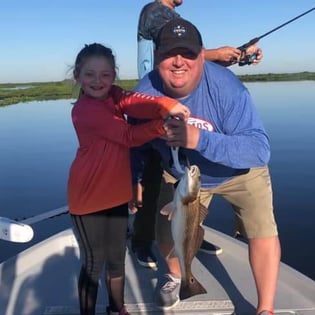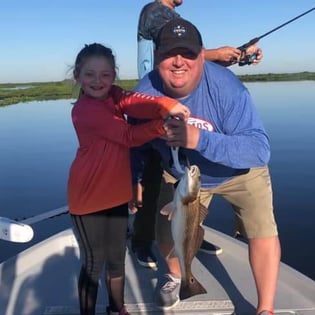 Explore the inshore waters of Southern Lousiana with Captain Zach, to catch redfish, trout, black drum and maybe even some flounder down in the Sportsman's Paradise. All his trips include Bait, Ice, Fishing Rods, Tackle, and Fuel. And are run aboard his 24' Blue Wave with a Yamaha 300 hp. All Captain Zach Recommends you bring are your favorite snacks and drinks, your camera, and your sun protection. Captain Zach and his team will take care of the rest! Read More
Top Types of Trip in Delacroix
Top Targeted Species in Delacroix
Half Day and Full Day Fishing Trips in Delacroix
Everything to Know About Booking a Fishing Charter in Delacroix
What are the best fishing charters in Delacroix?
Our guides in Delacroix are rated a 4.92 out of 5 based on 9635 verified reviews on Captain Experiences.
All guides on Captain Experiences are licensed, insured, and vetted by our team. You can access their reviews, click through trip photos, read bios to get to know them, and preview trip details like species, techniques, group sizes, boat specs and more.
What types of fishing charters are common in Delacroix?
Deep Sea fishing is the most popular in Delacroix as well as inshore fishing, flats fishing, and nearshore fishing.
The most commonly sought after species in Delacroix are: 1. redfish, 2. speckled trout, 3. flounder, and 4. black drum.
The most common fishing techniques in Delacroix are light tackle fishing, artificial lure fishing, and bottom fishing but trolling and live bait fishing are popular as well.
How much do Delacroix fishing charters cost?
in Delacroix prices can range anywhere from an affordable $200 to $3,000 and up, but the average price for a half day trip in Delacroix is $688. The average price for a full day trip in Delacroix is $1,158.
What month is best for fishing in Delacroix?
The most popular season for fishing in Delacroix is fall, and most anglers book their trips 17 days in advance.
Do I need a Delacroix fishing license and what are the bag limits in Delacroix?
See here for more information on fishing licenses in Delacroix, bag limits for target species, and fishing season regulations in Delacroix. When in doubt, your fishing guide will always know the right rules and regulations in Delacroix.
Other Fishing Charter Locations near Delacroix
;