4.94 / 5 Average Review Score
Team of Experts Available 24/7
Licensed and Insured Guides
Recently Booked Fishing Charters Near Dania Beach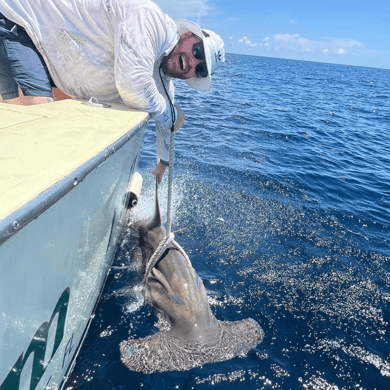 Top Types of Trips in Dania beach
"Our Damn Good Guides go above and beyond to provide you an incredible trip, and we've handpicked every single one. We're passionate about the outdoors and about empowering people to find the perfect-match guide for the trip of a lifetime, every time."
Jonathan and Attison | Co-founders | Austin, Texas
Everything to Know About Booking a Fishing Charter in Dania beach
What are the best fishing charters in Dania beach?
Our guides in Dania beach are rated a 5 out of 5 based on 9590 verified reviews on Captain Experiences.
All guides on Captain Experiences are licensed, insured, and vetted by our team. You can access their reviews, click through trip photos, read bios to get to know them, and preview trip details like species, techniques, group sizes, boat specs and more.
What types of fishing charters are common in Dania beach?
Deep Sea fishing is the most popular in Dania beach as well as nearshore fishing.
The most commonly sought after species in Dania beach are: 1. swordfish, 2. wahoo, 3. vermillion snapper, and 4. sailfish.
The most common fishing techniques in Dania beach are trolling, live bait fishing, and light tackle fishing but kite fishing and jigging are popular as well.
How much do Dania beach fishing charters cost?
in Dania beach prices can range anywhere from an affordable $1,800 to $3,000 and up, but the average price for a half day trip in Dania beach is $1,800. The average price for a full day trip in Dania beach is $3,000.
What month is best for fishing in Dania beach?
The most popular season for fishing in Dania beach is winter, and most anglers book their trips 28 days in advance.
Do I need a Dania beach fishing license and what are the bag limits in Dania beach?
See here for more information on fishing licenses in Dania beach, bag limits for target species, and fishing season regulations in Dania beach. When in doubt, your fishing guide will always know the right rules and regulations in Dania beach.
Recent Reviews of Captain Experiences
★★★★★

This was an awesome fishing outing. They really helped us catch some big fishes while helping our sea sick passengers. Highly recommend this experience.

Chase V. with David I. of Hollywood, Florida

★★★★★

I can't say enough good things about Carl and Dom. What a great crew. They had us on fishing within 20 minutes of leaving the harbor and we were busy the entire trip! Their expertise and guidance helped us catch literally dozens of fish and we had the best time ever. Not only were they super friendly but also had complete control when the fish got close! I can't recommend them enough. I can't wait for my next trip with them!

Grayson R. with David I. of Hollywood, Florida

★★★★★

Amazing trip with an All-Star crew!!! Couldn't ask for a better day weather wise and company wise. From arrival to the dock to leaving after 8 hours of fun filled day of catching fish, having laughter and just enjoying an absolute best time of our life's. Mike and Dan are the best crew that anyone could ask. Strongly recommend anyone who wants to experience good fishing and knowledgeable personale to book with Lady Pamela II. Looking forward coming back and have another amazing trip with these guys….

Marcis P. with David I. of Hollywood, Florida
;