4.94 / 5 Average Review Score
Team of Experts Available 24/7
Licensed and Insured Guides
Recently Booked Fishing Charters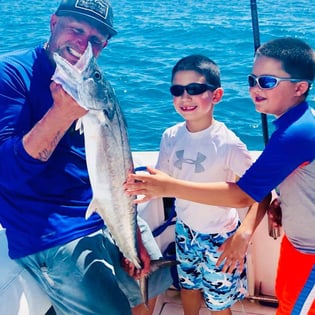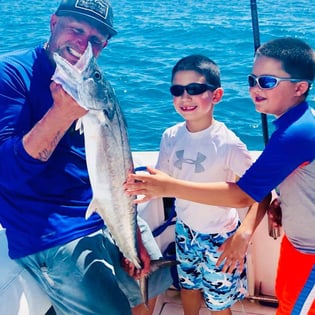 Private groups up to 6 guests max. Launch with Captain Bryan to chase down Miami's offshore big game! Please note that the full day 8 hour trips require a 1 hour travel time to and from the fishing grounds offshore, but the fihsing is well worth the wait! You will be fishing aboard Captain Bryan's 42' Sea Ray sportfisher, equipped with twin 350 Cummins Diesel engines capable of running from Miami to Bimini in a couple of hour. You won't be ripping it to Bimini on this 5-hour adventure, but you will be getting out to the fishing grounds as quickly as possible! Miami is known for its outstanding populations of Sailfish, Blackfin Tuna, Mahi Mahi, Wahoo, Mackerel, Amberjack, and Grouper. All of which require a slightly different technique or location to catch so make sure you tell your captain what species you'd like to target most! The price includes Captain, Mate, boat, fuel, live bait, dead bait, fishing licenses, all necessary tackle, bottled waters and ice. Feel free to bring any food or drinks you want. Alcohol and glass bottles are perfectly fine too! Read More
Head out with Captain Gage for the perfect day out on the beautiful Florida waters. Whether you're looking for a 4 hour near-shore trip, a 12 hour off-shore trip, or anything in between, Captain Gage will put you where you need to be! Enjoy bottom fishing reefs for Red Snappers, Gag Groupers, Red Grouper and more. Or relax and let Captain Gage and his 27' Grady White take control to do some nearshore trolling and chase the coveted King Mackerel. All you have to do is let Captain Gage know which species you want to target, and he can make it happen! His boat comes loaded with all the gear you could possibly need for a successful day out on the water including all the rods, reels, tackle, bait and fishing licenses. So all you have to do is bring your favorite snack and drinks, your sun protection, and your camera and Captain Gage will take care of the rest! Read More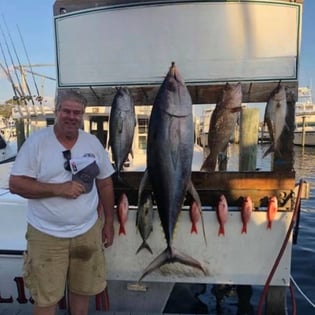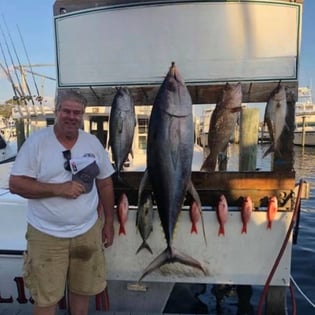 Climb aboard with Captain Harold for an exciting day fishing the waters around Destin, Florida! Captain Harold is a veteran of Destin fisheries, having fished these waters for almost 50 years! He'll be sure to take you to where the fish bite. You'll spend 4 hours trolling nearshore for the plethora of Spanish Mackerel and King Mackerel that inhabit these fisheries. Captain Harold's family custom-built "Al-Lin" in the late 1980s and have maintained the boat ever since. She is 44 feet long and can accommodate 6 anglers. She also has a restroom. Captain Harold and his crew provide everything you'll need to have a productive day on the water, including rods, reels, tackle, bait, licenses, and ice. Just pack food, drinks, sunscreen, and a cooler to take home your day's catch. Get ready for an exciting day on the water with Captain Harold! Read More
Top Types of Trip
Half Day and Full Day Gag Grouper Fishing Trips
Everything to Know About Booking a gag grouper fishing charter
What are the best gag grouper fishing charters?
Our guides are rated a 4.9 out of 5 based on 9606 verified reviews on Captain Experiences.
All guides on Captain Experiences are licensed, insured, and vetted by our team. You can access their reviews, click through trip photos, read bios to get to know them, and preview trip details like species, techniques, group sizes, boat specs and more.
What types of gag grouper fishing charters are common?
Deep Sea fishing is the most popular for gag grouper as well as nearshore fishing, inshore fishing, and flats fishing.
The most common fishing techniques are bottom fishing, trolling, and heavy tackle fishing but light tackle fishing and live bait fishing are popular as well.
How much do gag grouper fishing charters cost?
for gag grouper prices can range anywhere from an affordable $300 to $3,000 and up, but the average price for a half day trip for gag grouper is $932. The average price for a full day trip for gag grouper is $2,285.
What month is best for gag grouper fishing?
The most popular season for gag grouper fishing is summer, and most anglers book their trips 33 days in advance.
Do I need a fishing license for gag grouper and what are the bag limits for gag grouper?
See here for more information on gag grouper fishing licenses, gag grouper bag limits, and fishing season regulations for gag grouper. When in doubt, your fishing guide will always know the right gag grouper rules and regulations.
What is a Gag Grouper?
Gag grouper (Mycteroperca microlepis), also known as velvet rockfish or charcoal belly, are a member of the grouper family. They have a mottled-gray coloring with spots ranging from worm-like, boxy, or even "kiss-shaped" covering their stocky body and large head.

They are often confused with other members of their family, especially the black grouper. They can be most easily distinguished by their coloring, as well as the shape of their preopercle. The preopercle is the middle bone of the gill cover, which with gag groupers are noticeably notched with a very lobed appearance, whereas black groupers have a very rounded preopercle with no lobe below it.

Also, like many of their grouper family, they will use their swim bladder to make low grumbling sounds when they feel threatened.
How big do Gag Grouper get?
Over their average lifespan of 16 years, gag groupers can grow up to over four feet and weigh over 50 pounds. However, the average male grouper will reach maturity at eight years old at around 39 inches, and the average female will mature at age five to six, and at about 26 to 30 inches long.

Males over the age of the weight of 30 pounds are called black bellies, and are considered trophy catches.


What's the biggest Gag Grouper ever caught?
The world record gag grouper, according to the IGFA, weighed in at a whopping 80 pounds and six ounces. Caught in Destin on October 14th, 1993 by Bill Smith.

Smith was using mingo snapper as bait, and after a 20 minute fight, was able to wrangle in the mammoth grouper. He then took it to the Marina Point Destin, where they were able to officially weigh it in for the record.


Where is the best place to catch Gag Grouper?
Gag grouper can be found in the Western Atlantic Ocean. The highest north they are found is in Bermuda, North Carolina, and the Yucatan Peninsula of Mexico, and sometimes juveniles will be found as far north as Massachusetts. Further south they can be found in Brazil.

They can be found either solitary or in groups of 5 to 50 fish in depths from 30 to almost 150 feet, often among oil rigs and reefs. They also will migrate in late winter to offshore spawning grounds as low as 230 feet.


When should I catch Gag Grouper?
Cooler weather brings gag grouper closer to shore, where they will spawn from January to March on the coasts of the Atlantic and within the Gulf. October through December will be a good time to catch them migrating inwards, and throughout the summer you will need to head to some deeper waters.

However, depending on the area you head towards, you will need to be wary of season closures. In Atlantic waters, the season is closed from January 1st to April 30th. In the Gulf (except for a select few states and counties), they are open from July 1st until December 2nd.
How do you catch Gag Grouper?
Of all methods, jigging is far and away the most effective way to catch gag grouper. Use depth sounders to find rocky outcrops and irregular bottoms where gags gather, and then anchor nearby to fish, or begin trolling. Recommended baits are live pinfish, frozen herring, squid, scad, porgies, sardines, smaller snapper, crabs, shrimp or grunts, the smellier the better.

Remember that gag grouper are strong, and have an instinct to bite and drag their prey into hiding areas within rocks and coral, making your line very susceptible to being cut. It is crucial to get the fish up off the ground as quickly as possible.
Are Gag Grouper good to eat? What are the best Gag Grouper recipes?
Gag groupers are an excellent fish to eat, often one of the favored groupers. They have a firm white flesh, with very little red. Many say that filleting and baking the grouper is the best preparation, and the less ingredients the better. Just some simple olive oil, lime, parsley, salt and pepper is recommended.
Recent Reviews of Captain Experiences
More Fishing Charters
Showing 1 to 24 of 393 results
See all trips
---
Top Fishing Charter Locations for Gag Grouper Fishing
;