4.94 / 5 Average Review Score
Team of Experts Available 24/7
Licensed and Insured Guides
Recently Booked Fishing Charters Near Belle Chasse, La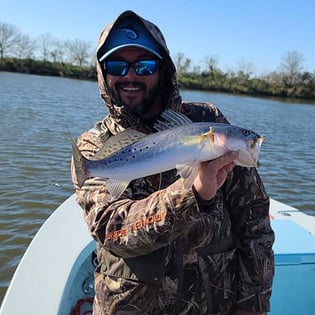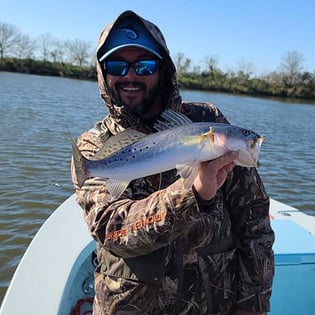 Head out with Captain Lance to explore the Sportsman's Paradise down in South Louisiana. On this trip you'll be using light tackle rigs, artificial bait, or live bait if you'd like to purchase some to chase speckled trout and redfish. The ecosystem down on Louisiana's gulf coast make it a very interesting fishery. It is absolutely beautiful with mazes of marshland, flooded backcountry waters, and wildlife abounding, but there is so much good habitat that the fish can move just about anywhere. And they do move around a lot. That's where a great Captain like Lance is extremely helpful. With an in-depth knowledge of the surrounding water and fish habits, he keeps close tabs on where those fish are moving and where the most successful locations will be for each trip. As a result, Captain Lance is very flexible on where you will be launching from, since he is always moving around as well to follow the fish. In the days leading up to your trip, he will reach out to you to discuss where your group will be coming from and where the best launch location will be based on your position and where the fish are most localized! Once you've agreed upon a meet-up location and the day of your trip arrives, you will find Captain Lance at the boat ramp to load up aboard his 24' Pathfinder bay boat and head out into the marsh! Captain Lance provides fuel, fishing tackle, ice, live bait, and will even clean and bag all the fish you catch for your travel home. Water, cold drinks, and food are not automatically provided but Captain Lance can bring them along at your request for a small additional fee. He does ask that you leave your crocs, flip-flops, and sandals at home. Please where nonscuffing sneakers. Things to bring on your trip: Mosquito spray, Gnat Spray, Sun Screen, a hat, sun glasses, long sleeve fishing shirt and pants is recommended to protect from the sun. Snacks: bring a sandwiches and chips along with water and Gatorade's. We will transfer everything from your ice chest to ours while on the water as to not have additional space taken by extra ice chest on board. Read More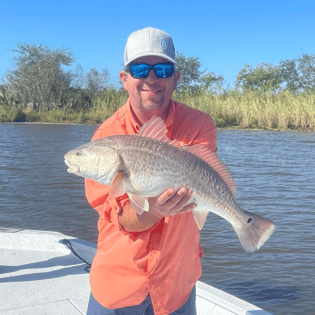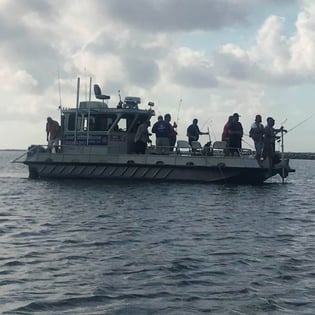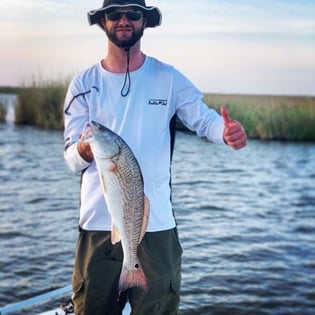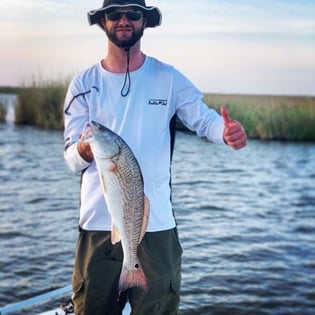 Climb aboard with Captain Gavin for a half day adventure on the inshore flats of Lafitte, LA. Captain Gavin's 32' Aluma Marine can fit up to 10 guests, giving you the opportunity for a fishing frenzy! The Barataria-Terrebonne estuarine complex is the largest and most dynamic fishing grounds in the world. Among the maze of marshes, you will be targeting Black Drum, Flounder, Redfish, and Spotted Seatrout, which all make for a delicious dinner! Captain Gavin will clean any fish you catch, so you can take home an incredible meal. If you choose, Captain Gavin is happy to clean and cook your catch for you, at an additional fee of $30 per person. He also provides rods, reels, bait, and tackle for you and all your guests, so you only need to bring sun protection, food, and drinks. The vessel is a 36' Aluma Marine equipped with twin 600hp Yamaha engines, which power the huge boat through the flats. The cabin has air conditioning to give you a break from the Louisiana heat, and the spacious deck accommodates up to 10 people. Captain Gavin is an experienced guide who can take you to the best fishing holes in grassy flats. Once there, you will cast using light tackle and hopefully reel in a monster! Read More
Come on down to Saint Bernard, Louisiana, and cast away with Captain Seth! On these 6-hour action-packed adventures, Captain Seth likes to chase Redfish, Speckled Trout, Black Drum, and Flounder. No matter your age or skill level, Captain Seth will lead the way! His 24' Skeeter bay boat is great for slipping out into the bay and backcountry waters to get on the fish! 4 guests can fit comfortably on his boat, but his boat can handle 6 if you bring kids or small adults (You will need to get in touch with us or Captain Seth before this can be arranged) Captain Seth will provide everything you need to have a productive day on the water, except a Texas fishing license, which you'll need to bring yourself. You will also want to bring a cooler to take home your day's catch. Captain Seth will provide all rods, reels, and tackle. They will also provide bottled waters and a cooler to store any food and drinks you choose to bring. They will also prepare live bait for you prior to the trip. Read More
Top Types of Trip in Belle Chasse
Top Targeted Species in Belle Chasse
Half Day and Full Day Fishing Trips in Belle Chasse
Everything to Know About Booking a Fishing Charter in Belle Chasse
What are the best fishing charters in Belle Chasse?
Our guides in Belle Chasse are rated a 4.9 out of 5 based on 9606 verified reviews on Captain Experiences.
All guides on Captain Experiences are licensed, insured, and vetted by our team. You can access their reviews, click through trip photos, read bios to get to know them, and preview trip details like species, techniques, group sizes, boat specs and more.
What types of fishing charters are common in Belle Chasse?
Deep Sea fishing is the most popular in Belle Chasse as well as inshore fishing, flats fishing, and lake fishing.
The most commonly sought after species in Belle Chasse are: 1. redfish, 2. speckled trout, 3. flounder, and 4. black drum.
The most common fishing techniques in Belle Chasse are light tackle fishing, bottom fishing, and trolling but artificial lure fishing and live bait fishing are popular as well.
How much do Belle Chasse fishing charters cost?
in Belle Chasse prices can range anywhere from an affordable $200 to $3,000 and up, but the average price for a half day trip in Belle Chasse is $700. The average price for a full day trip in Belle Chasse is $1,123.
What month is best for fishing in Belle Chasse?
The most popular season for fishing in Belle Chasse is fall, and most anglers book their trips 11 days in advance.
Do I need a Belle Chasse fishing license and what are the bag limits in Belle Chasse?
See here for more information on fishing licenses in Belle Chasse, bag limits for target species, and fishing season regulations in Belle Chasse. When in doubt, your fishing guide will always know the right rules and regulations in Belle Chasse.
Other Fishing Charter Locations near Belle Chasse
;