4.94 / 5 Average Review Score
Team of Experts Available 24/7
Licensed and Insured Guides
Recently Booked Fishing Guides Near Buchanan Dam, Tx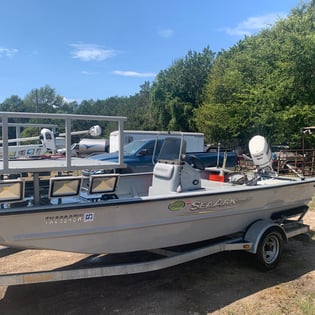 Prepare to bring in fish like never before on this awesome Central Texas bowfishing trip with Captain Randy! He'll take you out on the Highland Lakes in search of Gar, Carp, Freshwater Drum, Tilapia, Shad, and more! Once you're on the fish, all you need to do is whack 'em and stack 'em! Bowfishing is an experience unlike any other, so come on out and give it a try. Captain Randy will provide you and your party with all the fishing gear you will need to get out on the water and start hitting fish. Depending on the fish you're looking to bring in, he'll take you to one of his multiple honey holes on his 18' SeaArk aluminum boat, which has 10 LED lights on a deck custom-designed by Matthews Archery. This boat is well equipped for bowfishing with enough room for 4 anglers to fish at the same time, so there's no waiting your turn. Captain Randy will bring a cooler with drinks and water, but if you would like to have any other drinks or snacks be sure you bring them along with you. You are also welcome to keep your catch but make sure you bring your own ice chest to keep the fish fresh. Make sure to remember your fishing license and a good pair of shoes that can get a little dirty! Read More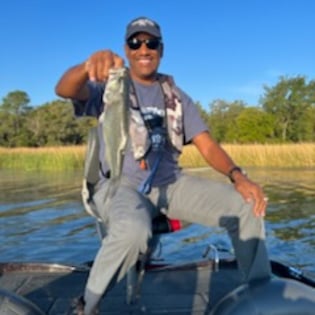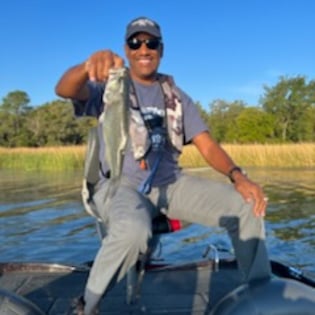 Love catching big Bass but never had the chance to fish in an official tournament? Get some buddies together for this unique, competitive tournament-style Bassfishing trip on the lakes around Austin, Texas! On this trip, your group will split up according to how many people you bring, typically going 2-3 per boat, and competing to see who can catch the better fish! The terms of this tournament will be up to you, and you can compete based on size, number of fish, top five catches, or more! Feel free to bring drinks and snacks, and make sure you've got some good trash-talk ready to go. Derek can take up to 2 guests on this tournament adventure. You will be fishing aboard his 18' bass boat, which is suited to all your needs on Lake Travis. The vessel is powered by a 115 Yamaha engine that will power you across the smooth surface of the lake with speed. Derek can provide all the fishing gear for you: rods, reels, artificial lures, and light tackle for you, but encourages you to bring your own if you'd like as well. Otherwise feel free to bring your favorite snacks, drinks, and don't forget your Texas fishing license. Get ready to whack some bass! Read More
Bass fishing is a popular activity on Lake Travis, with many anglers coming from all over the country to enjoy the excellent largemouth bass fishing. Hop on board with Captain Jake for an exciting day on Lake Travis. The lake's more than 18,000 acres of water and numerous underwater structures provide ample opportunity for successful bass fishing trips. In addition, the flooded vegetation around the lake creates ideal conditions for largemouth bass to spawn and feed. Anglers who join Captain Jake are bound to catch some monster Largemouth and Striped Bass. Captain Jake can accommodate 3 people on these 4-hour (half-day) and 8-hour (full-day) adventures. During this trip, you will learn the latest and most effective techniques and how to adapt your presentation to your environment. No fishing experience is required! Anglers of all ages and skill levels are welcome. Heavy-duty spinning or baitcasting gear is often necessary in order to handle the largemouth bass that are found in the lake. Anglers who Join Captain Jake on his beautiful bass boat will be well on their way to having a successful Bass fishing trip on Lake Travis. All equipment will be provided including high-quality fishing rods and a variety of lures. Also, life jackets are provided for all guests during the trip and sharp hooks will be handled by your guide. You'll want to bring food and drinks of your choice (no glass), sunscreen, a hat, an ice chest for your day's catch, and, of course, some great company. Read More
Top Types of Trip in Buchanan Dam
Top Targeted Species in Buchanan Dam
Half Day and Full Day Fishing Trips in Buchanan Dam
Everything to Know About Booking a Fishing Guide in Buchanan Dam
What are the best fishing trips in Buchanan Dam?
Our guides in Buchanan Dam are rated a 5 out of 5 based on 9603 verified reviews on Captain Experiences.
All guides on Captain Experiences are licensed, insured, and vetted by our team. You can access their reviews, click through trip photos, read bios to get to know them, and preview trip details like species, techniques, group sizes, boat specs and more.
What types of fishing trips are common in Buchanan Dam?
Lake fishing is the most popular in Buchanan Dam as well as inshore fishing and river fishing.
The most commonly sought after species in Buchanan Dam are: 1. largemouth bass, 2. white bass, 3. striped bass, and 4. channel catfish.
The most common fishing techniques in Buchanan Dam are light tackle fishing, artificial lure fishing, and live bait fishing but sight casting and topwater fishing are popular as well.
How much does a Buchanan Dam fishing trip cost?
in Buchanan Dam prices can range anywhere from an affordable $5 to $1,300, but the average price for a half day trip in Buchanan Dam is $463. The average price for a full day trip in Buchanan Dam is $654.
What month is best for fishing in Buchanan Dam?
The most popular season for fishing in Buchanan Dam is spring, and most anglers book their trips 21 days in advance.
Do I need a Buchanan Dam fishing license and what are the bag limits in Buchanan Dam?
See here for more information on fishing licenses in Buchanan Dam, bag limits for target species, and fishing season regulations in Buchanan Dam. When in doubt, your fishing guide will always know the right rules and regulations in Buchanan Dam.
Other Fishing Guide Locations near Buchanan Dam
;